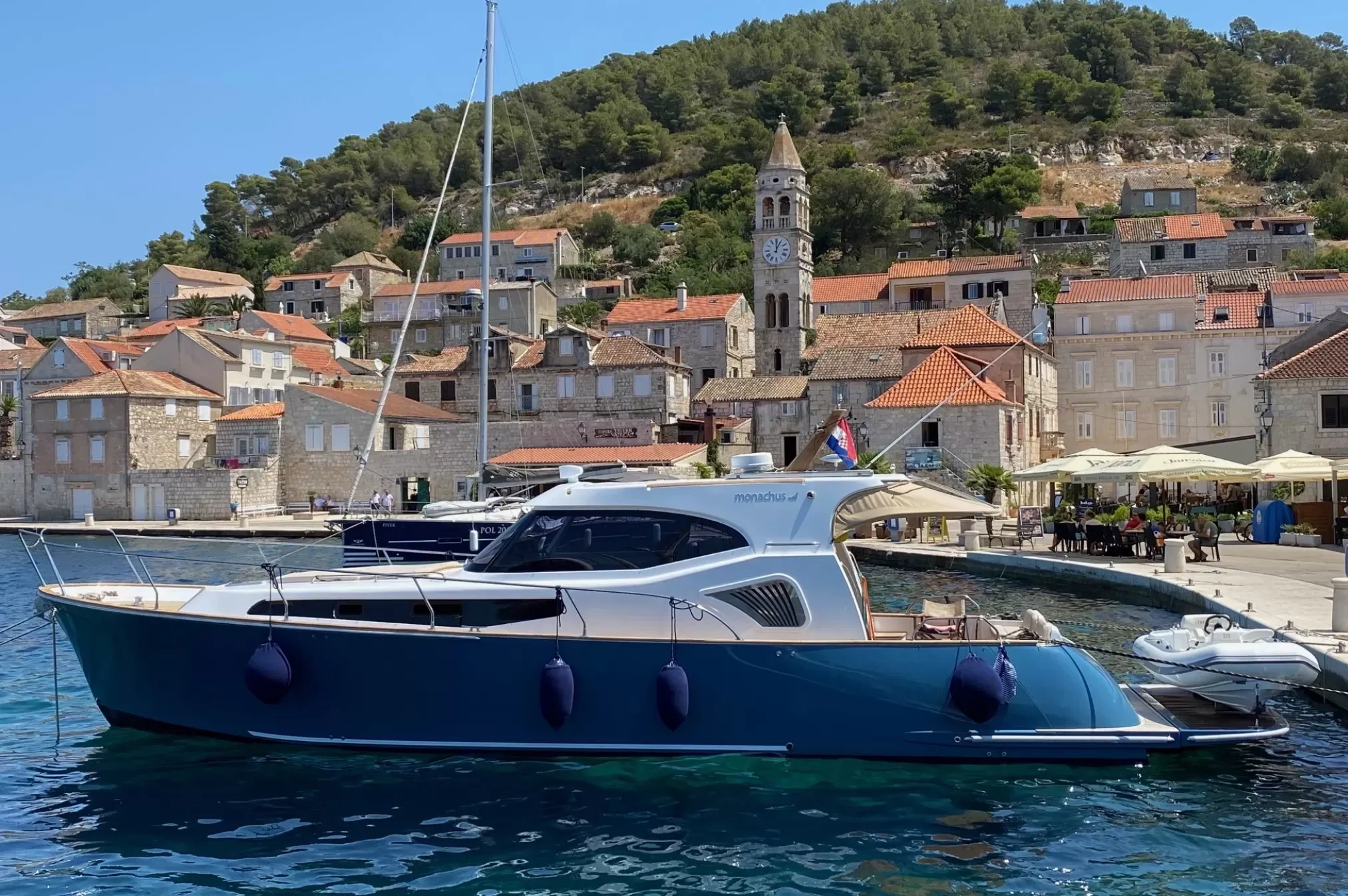 Boat Overview
Type

Maker

Hull type

Hull Material

Fiberglass

Category

Boat length (LOA)

14.33 m
Boat Description
Pharos 43 luxury yacht – is a boat with a retro elegant and dynamic style that bursts with determination to reach the goal. Safe and easy in movement, it fits every boater with a dynamic lifestyle! It's designed to the highest standards of the EC pleasure crafts category 'A'.
'Monachus-Pharos 43' is characterized by strong construction and easy movement. The latest generation of Volvo D6 marine engines with IPS propulsion system provides this model of retro-elegant style with a modern way of joystick control and enviable speed within the 'cruiser yachts' class. The hull geometry is designed without compromise, taking into account the best buoyancy. Longitudinal and transverse weight distribution are adjusted so that all centers of gravity are set as low as possible. Structural water tanks were made between the central longitudinal ribs, which further strengthened the hull. In the event of damage to the most exposed underwater part, the contents of the tank will leak out and the boat can proceed to the service point.
The best possible stability is achieved by an even distribution of weights around the CB point (center of the boat). And due to the tuned bow buoyancy and the center of gravity around the CB point and the adequately balanced stern buoyancy, the Monachus-Pharos 43 has a balanced seesaw effect on the longitudinal wave. The result is a slight transition over the wave. The one-piece laminated and multi-axially curved windshield gives the helmsman a fantastically clear view. An equally slightly raised bow at different cruising speeds ensures the lasting continuity of that clear view. Given the length of the waterline and the comfort of the 'cruiser' version for the 'Monachus-Pharos 43', we underline the main features – timelessly modern, comfortable and safe!
Monachus Pharos 43 is a versatile, practical, economical, and attractive luxury yacht. This boat provides comfort to all essential needs and activities during cruising. It is just as practical on day cruises as it is on longer cruises. One person can easily handle the boat on his own or with a little help, and its appearance will not leave the observers indifferent anywhere. Last but not least, Monachus Pharos 43 is a boat with excellent navigability, safe in navigation, and smooth in every aspect.
Discover the Gold
Hide ads, help pay for servers & development and unlock Gold only features like, sharing, advanced dashboard, extra storage space & more!
Try Gold for Free